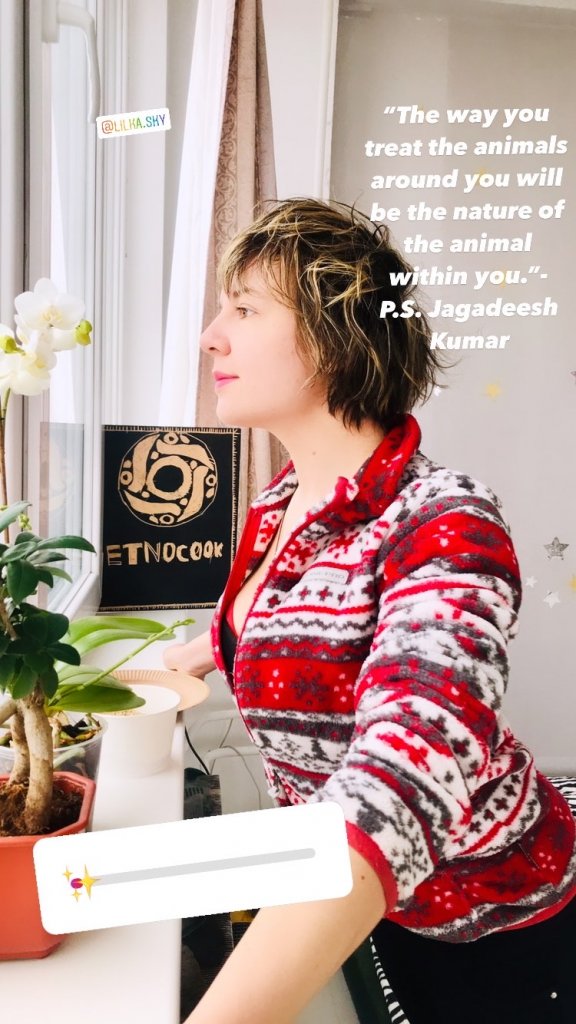 My Instagram readers know very well how much I like snow and winter. However, this is exactly that case when everything has to be on time. After two months complaining about the unusually warm weather, the February has begun and I just asked for no more winter, because nature is awakening and birds come home.
WHY I'VE DECIDED TO HELP BIRDS IN COLD WEATHER
Unfortunately, the week the frosts and snow have come to Ukraine. Especially it's in the Western part near the mountains. As for now, it's -5°C (23°F) during the day and -10°C (14°F) at night.
And with the high one hundred percent humidity it feels like much more colder.
Recently I've posted on LilkaSky Instagram Stories photos and video, how I found birds in bushes near the road.
DAY ONE. A LOT OF HUNGRY BIRDS IN BUSHES NEAR THE ROAD
They were very slow and didn't fly away. Just jumped from branch to branch and ate dried berries.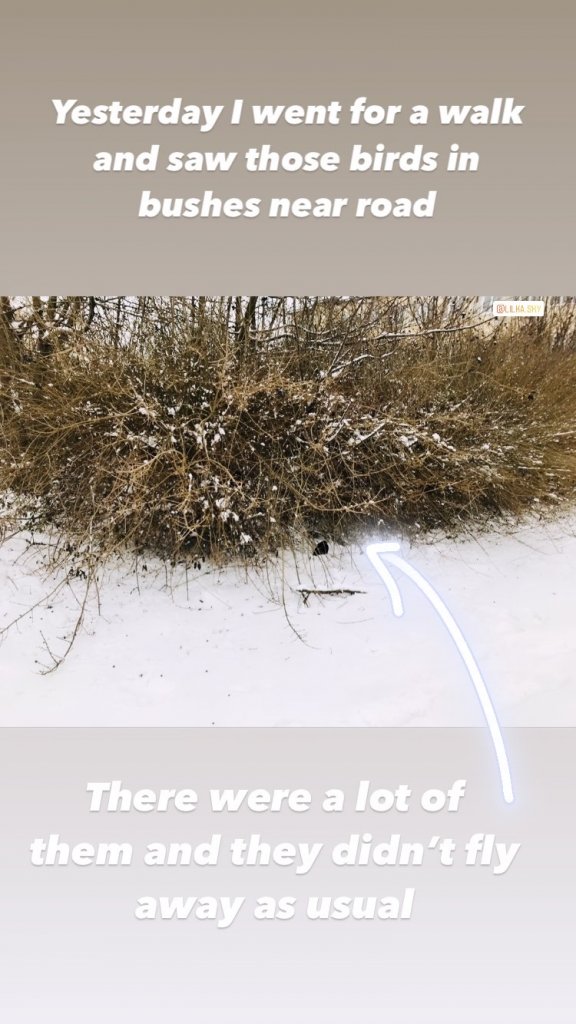 I don't know exactly what species they are, maybe starlings but I'm not sure 100%.

WHAT I AM GOING TO DO TO WARM BIRDS IN SEVERE WINTER CONDITIONS
So I came to my office and decided to plan how to feed the feathered friends.
First of all, the location of bushes isn't the best. It's in a windy place, near the road, and railway station. Among not many advantages are dried berries that birds can eat.
For that, I took some pearl barley and millet grains and two paper plates as bird feeders.
DAY TWO. I TAKE GRAINS AND MAKE BIRDS FEEDERS
There are different ways to help feathered creatures in winter. One and the most popular is to feed them.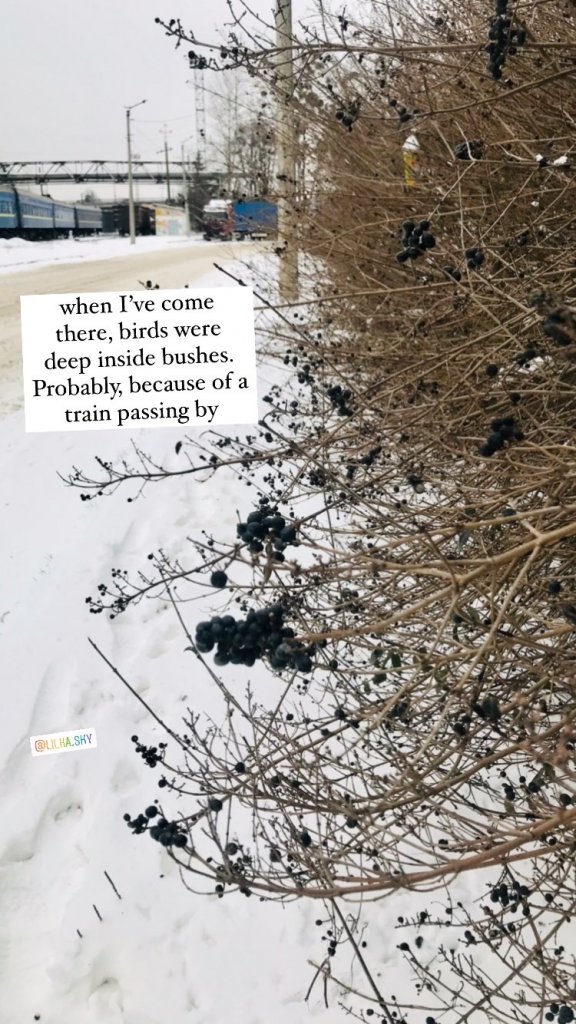 As you can see from the pictures, when I've come to that place, animals hid deep into bushes. I've left my improvised bird feeders nearby.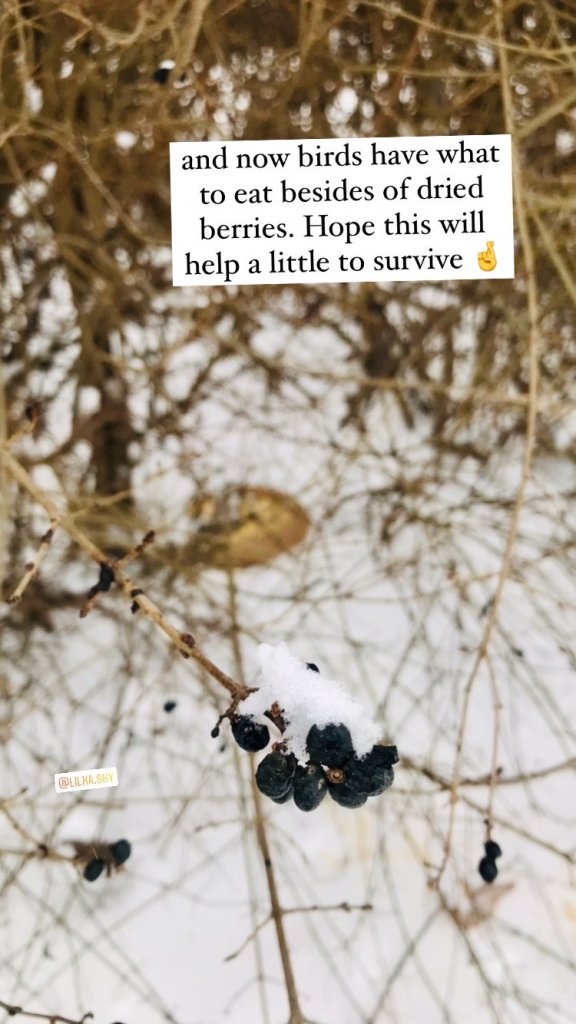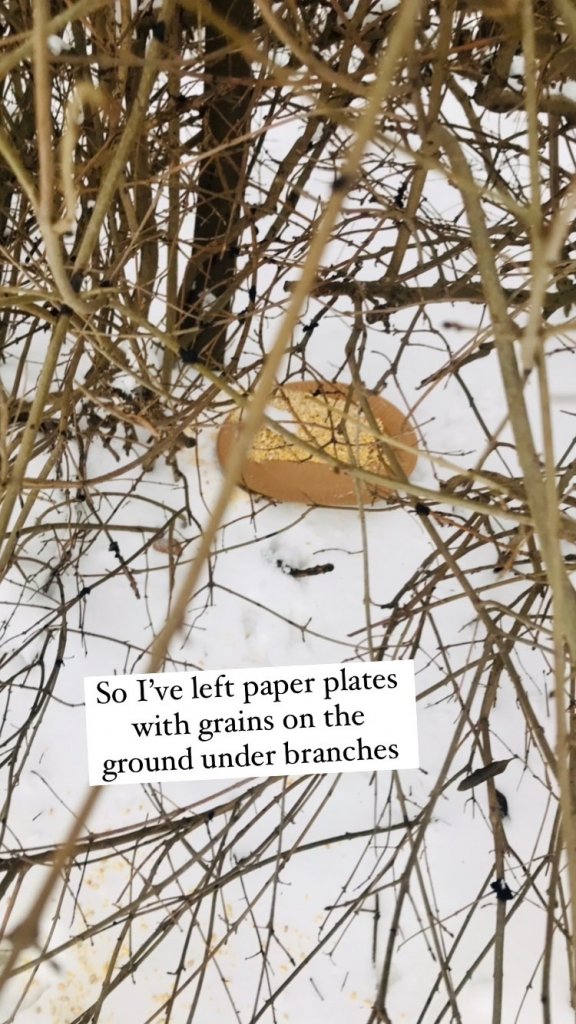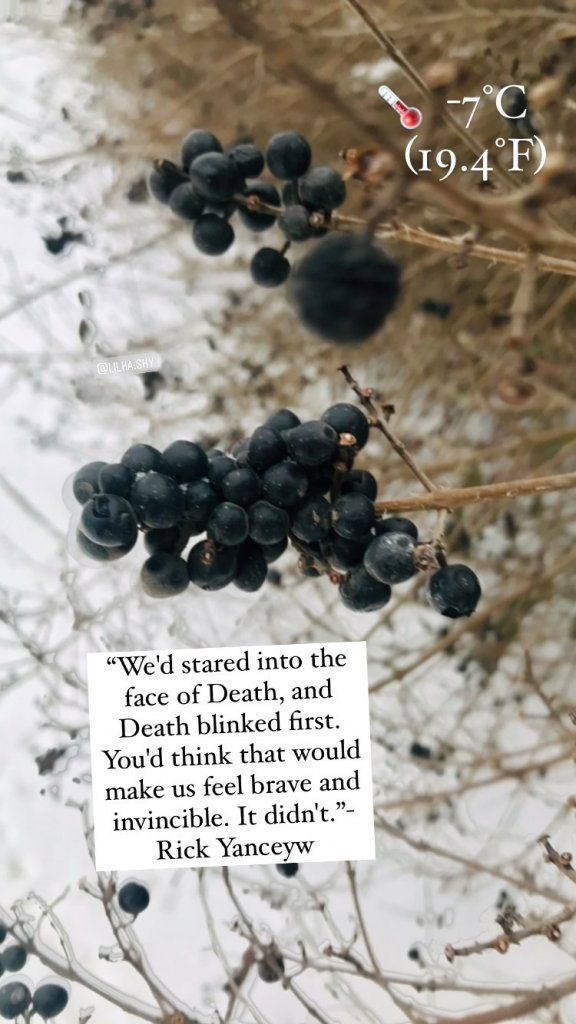 Hope this will help a little.
DAY THREE. TEMPERATURE GETS LOWER
So after receiving a lot of messages and LilkaSky Instagram poll results, I've decided to go check on birds in the middle of the week. I take a trolley bus to get there. It will take me near an hour.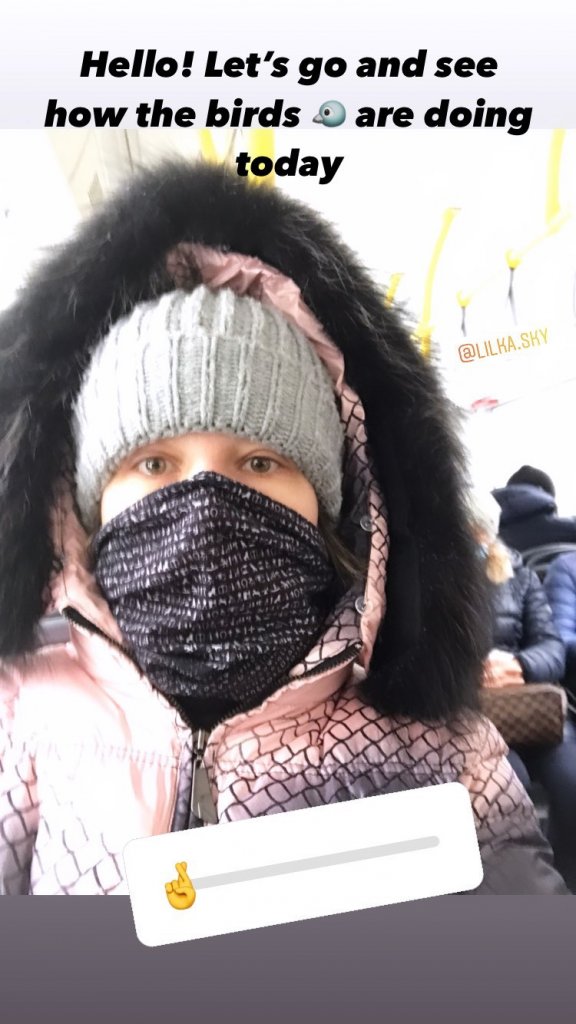 The spot where I go is in the industrial zone near the railway station.
As for Thursday there were practically no birds in those bushes. And if they went for good that'd be for the best, because the weather was bad.
To tell you the truth, there is so much snow around, that neither birds nor bird feeders with grains are seen.
The weather is getting worse and these weekend we are told to have -15°C (5°F), that's very dangerous for birds staying outside.

Suddenly I see a bird in bushes. It's the same species as previous time, black, not the smallest. It was eating dried berries but this time higher on branches.
As I can't find paper bird feeders because of snow, I'll leave gains under the bushes.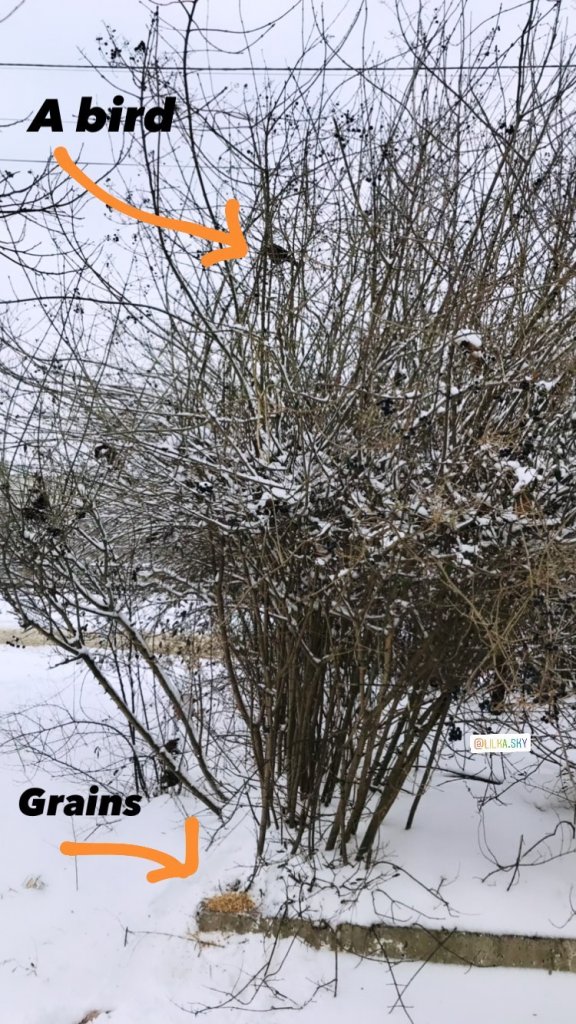 Actually, this time I have also buckwheat with me. And next time I'm going to take a thick slice of unsalted animal fat. There is information that this can help birds to survive these freezing times.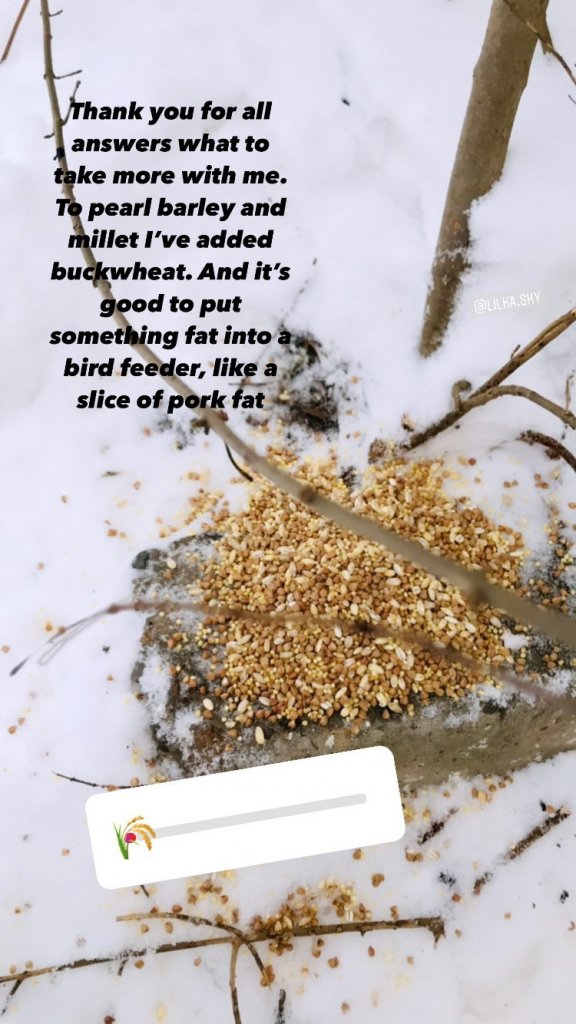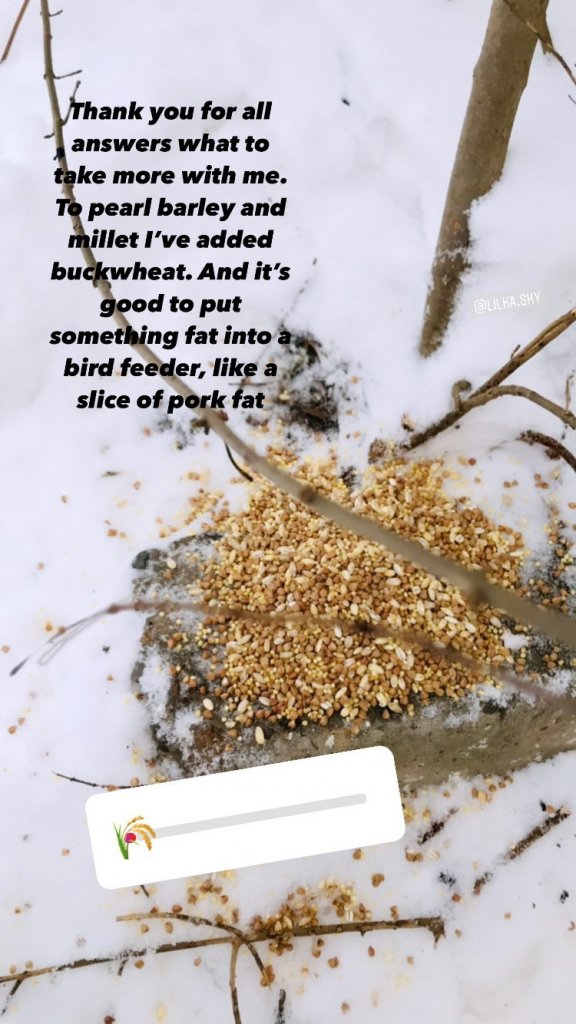 As these are really hard times for birds on Thursday I left some pearl barley, millet and buckwheat under the bushes, just in case.
On Saturday I'll come and check on those birds again, and bring some more foods for them.
DAY FOUR. FEEDING BIRDS WITH GRAINS AND FAT
Finally Saturday has come. As I've promised, today the bird feeders will be checked and refilled. While I'm making all preparations, the weather looks very nice and calm. However, it is very cold outside, -15 C.
Unexpectedly, a squirrel jumps between branches of a maple and a white cedar outside the window during severe winter frosts and sunny weather.
Dear friends, do you remember that strange piece of fat that was left when I cooked a duck? The recipe is here, on the LilkaSky website.
As I've read, a slice of unsalted animal fat can help birds not to die during especially cold night and will provide them with additional energy.
It's very cold and windy. And the temperature will be lower tomorrow, -18C.
Actually, I've seen two or three birds around. I put additional grains and duck fat on the same place as previous time.
To tell you the truth, there is neither many photos nor videos, because my phone battery went low in minutes.
In the end I want to thank everybody, who took part in LilkaSky polls, wrote comments, answered questions and gave very useful pieces of advice. People, you were great!
With your help birds don't stay in potentially dangerous bushes and those who are left have what to eat and hope to survive one more week.
Your LilkaSky! @lilka.sky ^.~ ❤️
►LilkaSky – https://lilkasky.com/
►ETNOcook website – https://etnocook.com/
👍 Facebook – https://www.facebook.com/lilkasky/
📷 Instagram – https://www.instagram.com/lilka.sky/
✌️ Twitter – https://twitter.com/lilkasky
📩 Mail – [email protected]⠀